Vita Collagen | Complex® PLUS | 20 Sachets
Regular price

Sale price

CHF 109.00
This instant drink dietary supplement is specially formulated for skin health and collagen formation. It contains a unique blend of high-quality vital substances that promote cell protection, reduce fatigue, support connective tissue, stimulate collagen production and improve vision.

This drink powder is composed of collagen hydrolyzate, hyaluronic acid, glucosamine, coenzyme Q10, astaxanthin, lutein, lycopene, plant extracts, amino acids, vitamins and trace elements.

The product is sugar-free, gluten-free and lactose-free, which makes it suitable for people with diabetes. Please note that it contains glucosamine sulphate from shellfish.
Ingredients
Collagen hydrolyzate, L-leucine, taurine, crustacean Na-glucosamine sulphate, L-arginine, citric acid acidifier, L-proline, agar-agar thickener, L-citrulline, aroma, vitamins C, E, B2, B6 , biotin, folic acid, B12, D3, K2, fruit powder (orange, lemon), release agent silicon dioxide, turmeric root extract, calcium lactate, hyaluronic acid, L-carnitine, pomegranate extract, yeast selenium, coenzyme Q10, OPC from pine bark extract, sweetener sucralose, zinc gluconate, UC-II collagen, OPC from grape seed extract, manganese sulphate, saffron extract, lutein, astaxanthin, lycopene , copper citrate, zeaxanthin. With sweetener and orange flavor.
*For information only. Ingredient information and formulations are subject to change. We make every effort to maintain the accuracy of ingredient information, but cannot guarantee its reliability, currency, or freedom from error.
Application
Mix 1 sachet (14 9) with 200 ml of water daily. Shake well in a shaker.
Can also be mixed with milk or orange juice.

important notes
Keep out of reach of children. Do not exceed the recommended daily dose. Should not replace a balanced and varied diet and a healthy lifestyle.
Share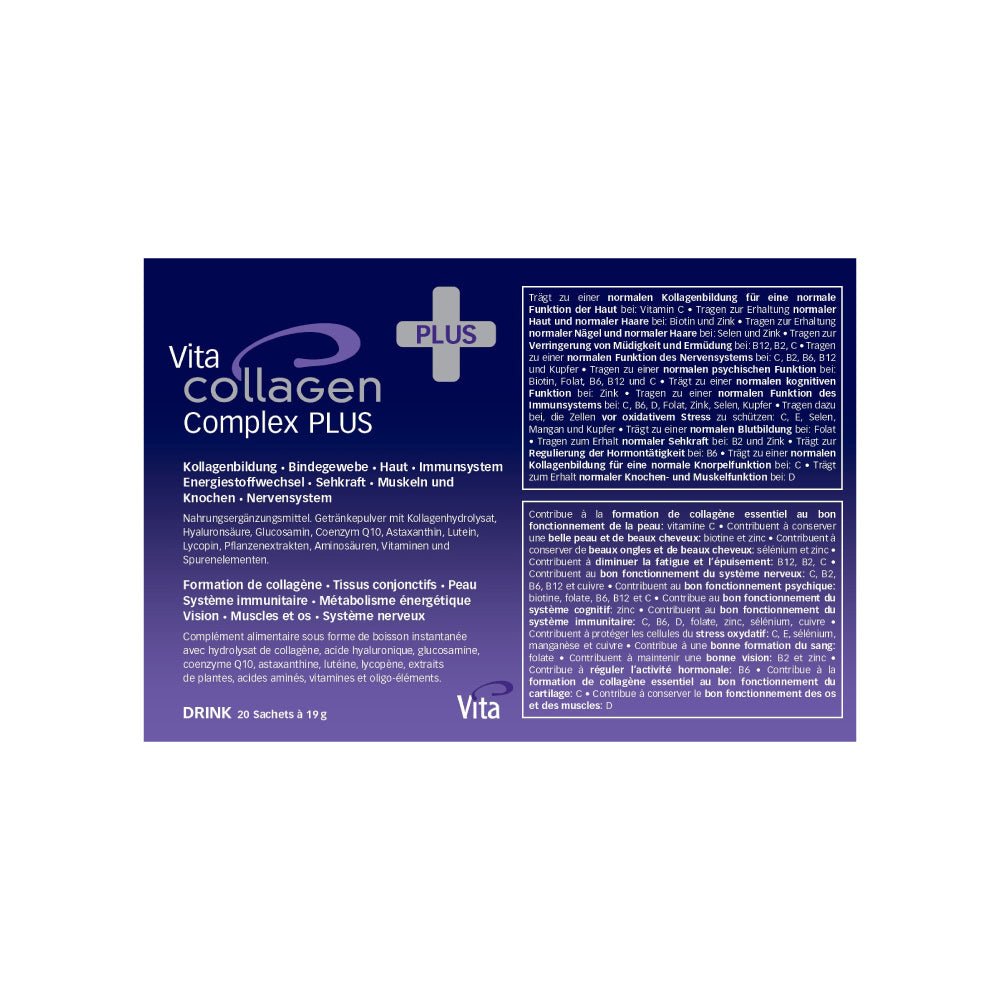 100% SECURE PAYMENT

We accept credit cards,
debit cards, TWINT and PayPal

MULTIPLE SAMPLES

Samples included
with each order

FREE DELIVERY FROM 50.-

Delivery throughout Switzerland,
free from 50CHF