SkinCeuticals | A.G.E Interrupter Advanced 48ml
Regular price

Sale price

CHF 175.00
AGE. Interrupter Advanced is an anti-wrinkle treatment that effectively helps to reduce the visible signs of skin aging caused by glycation end products (A.G.E.), and to correct the resulting deep wrinkles.

Skin types: Dry, Normal, Sensitive

Skin Condition(s): Mature
This new generation anti-wrinkle cream contains 18% concentrated Proxylane (+20% more than the previous A.G.E. Interrupter), 4.25% concentrated blend of wild fruit flavonoids (12.5% more active ingredients than the previous version) as well as 0.1% glycyrrhetinic acid, a new active ingredient specific to this new formula. Clinical studies have shown that this advanced technology helps visibly improve the appearance of wrinkles, boost skin firmness and improve skin radiance. 
Benefits:
Helps manage the multi-phase glycation process, known to be one of the main culprits of the visible signs of skin aging
Acts and smooths a wide variety of visible wrinkles, including fine lines, deep wrinkles and localized wrinkles such as nasolabial folds
Helps fight against the loss of firmness and elasticity of the skin, caused by the process of glycation which breaks down and weakens collagen
Improves overall skin radiance, improves complexion and reduces dark spots for a visibly healthier complexion
Delivers deep hydration with a luxurious, satin finish
Free of parabens, alcohol and pigments
Usage tips:
Apply a thin, even layer of A.G.E. Interrupt Advanced and massage gently all over the face, neck and décolleté twice a day.
When using in the morning, apply the product after a SkinCeuticals Vitamin C Anti-Oxidant Serum. Finally, apply a SkinCeuticals sun protection.
If using retinol overnight, apply A.G.E. Discontinue Advanced after applying retinol.
Scientifically proven effectiveness:
Collagen and elastin are responsible for the youthful appearance of the skin. Although many factors contribute to the visible signs of skin aging, the glycation of these proteins plays an important role. This multi-phase process occurs when excess sugar molecules bind to proteins in the skin, and therefore to collagen and elastin fibers. Oxidative stressors, such as UV rays, pollution and diet, speed up the reaction and turn these proteins into G.A.E.s – glycation end products.

A.G.E.s impact flexible proteins making them fragile and brittle, causing newly glycated collagen to lose its critical ability to regenerate. As these degenerated proteins cannot be broken down to be replaced, the skin is ultimately weakened and this results in an acceleration of the visible signs of skin aging, such as wrinkles.

AGE. Interrupter Advanced is a highly active corrective wrinkle cream designed to combat visible skin aging caused by collagen loss and the glycation process. This anti-wrinkle treatment contains a highly concentrated combination of Proxylan, wild fruit flavonoids, glycyrrhetinic acid, HEPES and Niacinamide to improve the visible signs of skin aging such as wrinkles and rough skin. All in a luxuriously structured formula.
How does the A.G.E. Is Interrupter Advanced different from the A.G.E. Original interrupt?
Just like A.G.E. Original Interrupter, A.G.E. Interrupter Advanced is an anti-wrinkle cream that fights glycation. AGE. Interrupter Advanced contains an increased concentration of Proxylane (+20%) and wild fruit flavonoids (+12.5%) as well as new active ingredients such as glycyrrhetinic acid and HEPES which act favorably on the loss of collagen. The texture of A.G.E. Interrupter Advanced is similar to its predecessor, A.G.E. Interrupt, but with an optimized fragrance.
Why A.G.E. Does Interrupter Advanced have a different color than the previous formula?
AGE. Interrupter Advanced contains a combination of wild fruit flavonoids (blueberry and pomegranate extracts) that is 12.5% higher than the single flavonoid (blueberry extract) used in the original formulation of A.G.E. Interrupt. These ingredients can therefore contribute to a slightly pinkish tint. Due to color variations of these naturally occurring ingredients, the color of this formula may also vary, but it is still effective. 
Share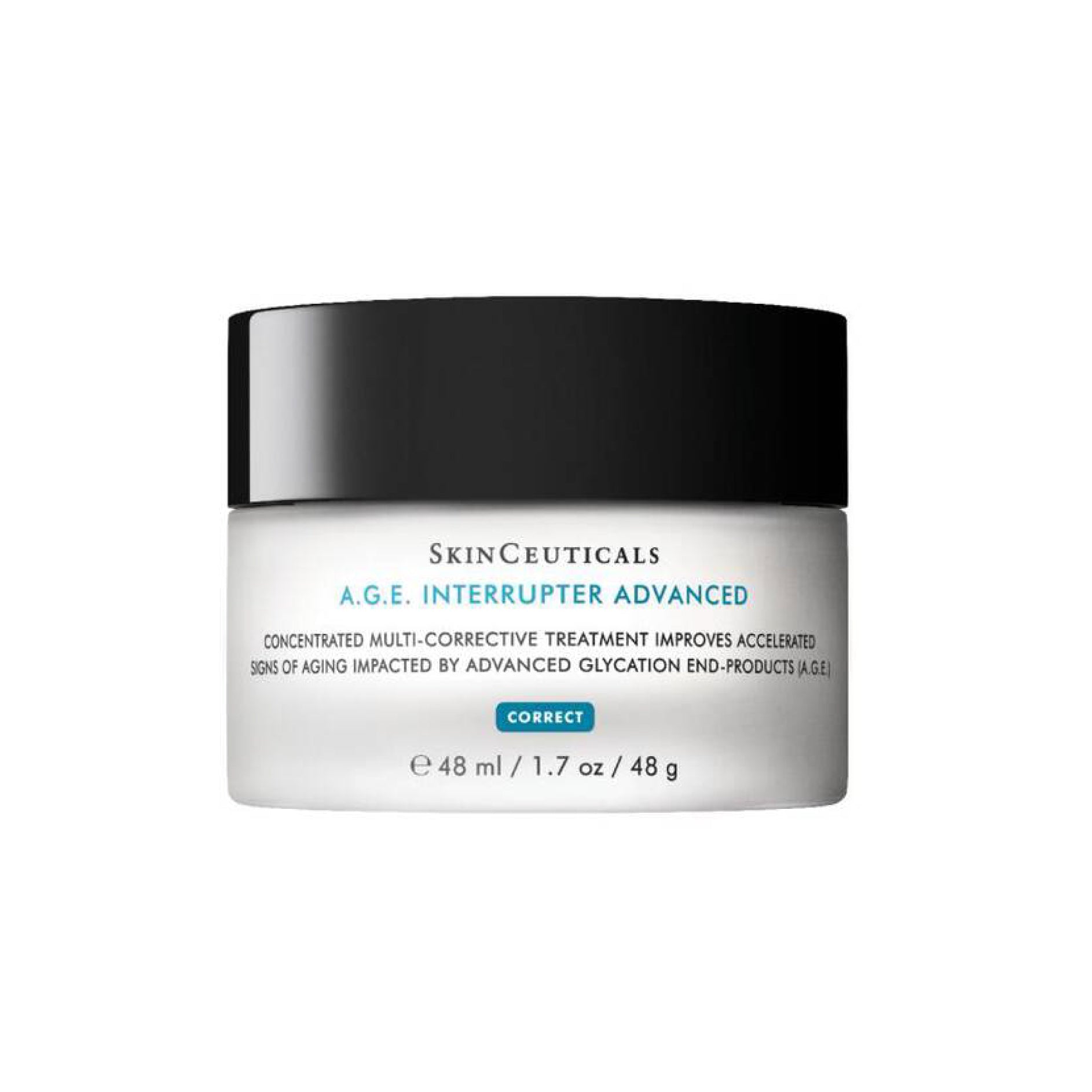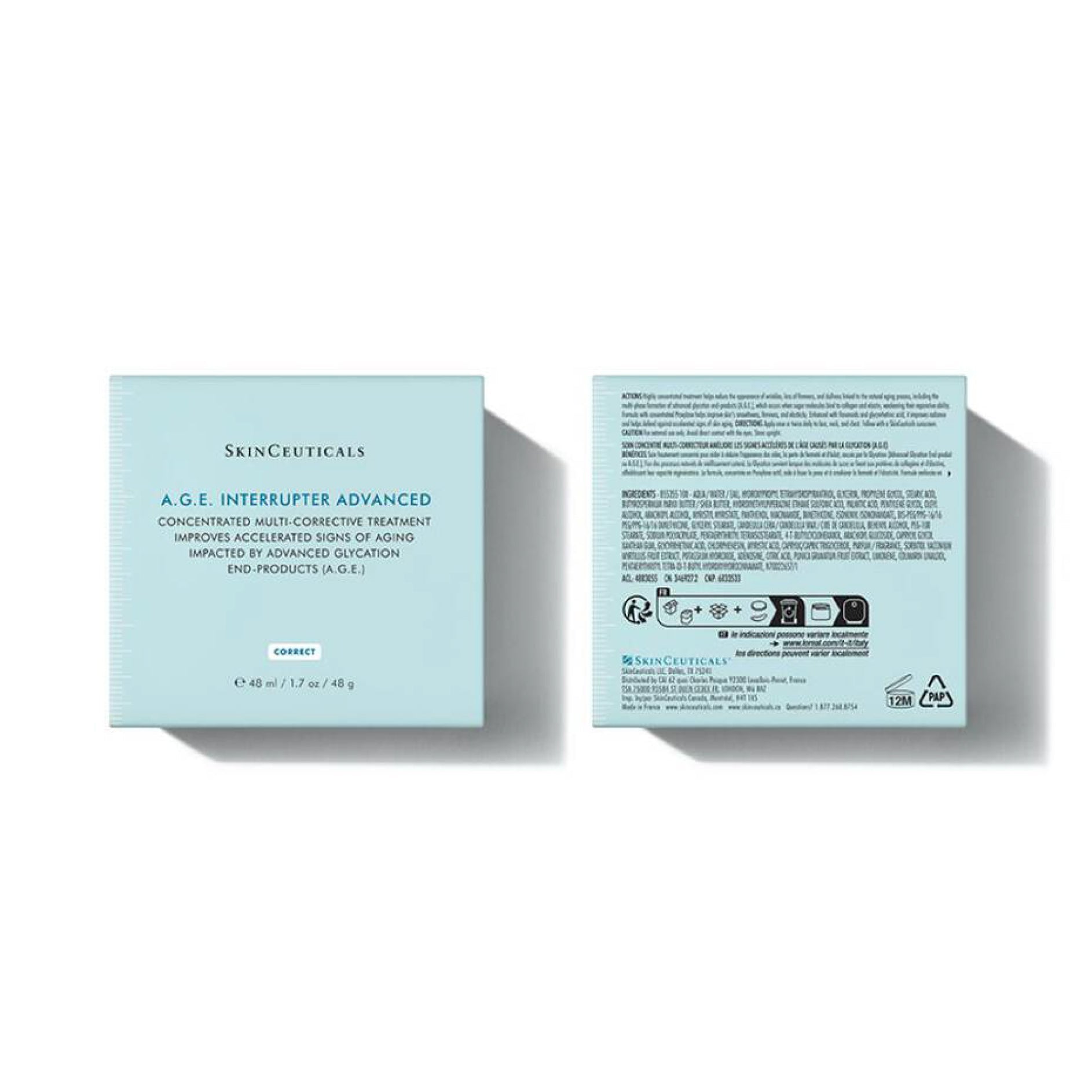 100% SECURE PAYMENT

We accept credit cards,
debit cards, TWINT and PayPal

MULTIPLE SAMPLES

Samples included
with each order

FREE DELIVERY FROM 50.-

Delivery throughout Switzerland,
free from 50CHF